FAIRWAY SCOTTISH TERRIERS
WELCOME TO FAIRWAY SCOTTISH TERRIERS!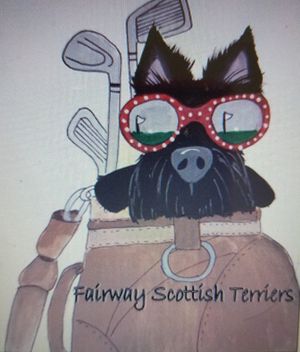 Fairway Scottish Terriers is a small, home-based kennel located in Western Michigan.   

Our goal is to produce healthy Scottish Terriers who can "go anywhere and do anything."  We breed our Scottish Terrier puppies for health, soundness and temperament, and we show our dogs in conformation to keep us on that path.  While some people think showing dogs is only about  how they look, showing is also a great test for temperament as these little dogs must allow total strangers to go over their bodies and open their mouths to look at their teeth as they are examined by the judge.   It takes a sound dog with a good temperament to allow that to happen.  Besides  showing dogs is fun, and we take pride in the fact that our dogs are owner-handled the majority of the time!   It's a great way to spend time with your dog, see a lot of other great dogs, travel, meet a lot of wonderful people, and have a good dinner with friends at the end of the day, whether you win or lose!

We take our breeding objectives seriously.  Our puppies are socialized from the beginning, starting with "Early Neurological Stimulation" and continuing on when they are moved into the middle of the kitchen/dining/living room area after they are weaned and Nancy's husband, Tom, takes over his "puppy master" duties of playing with the puppies and exposing them to his vast collection of rock and roll music!  We also incorporate Puppy Culture socialization and learning methods with our litters.
We do have puppies for sale once or twice a year as we place as pets the puppies we don't keep for ourselves to show.
Nancy is a member of the Scottish Terrier Club of America, the Scottish Terrier Club of Michigan and is the Treasurer of the Greater Muskegon Kennel Club.   Pam is a member of the Scottish Terrier Club of America and the Scottish Terrier Club of Tampa Bay.

You can reach Fairway Scottish Terriers by calling Nancy at 231-740-9158 or Pam at 407-579-2950 or  send an e-mail to Fairwayscots@gmail.com. 
You are visitor number: 64529